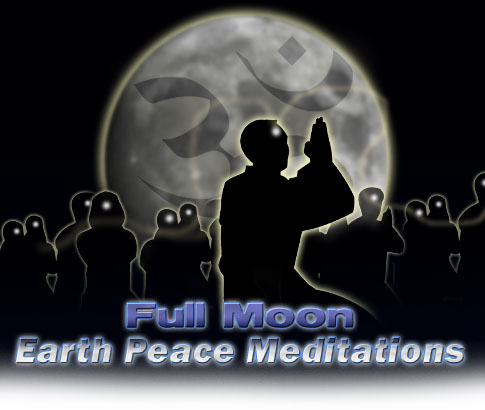 Enlightened Warriors all over the world are gathering on full moons to unite in consciousness as an inner link up with each other in a common purpose of becoming one mind, one heart, one being towards a unified consciousness in creating World Peace.
To understand why we do Earth Peace Meditations,
read The declaration of human rights below.

The Enlightened Warriors Earth Peace Meditation sessions are held each full moon from 7 to 9 PM PST in conjunction with brothers and sisters worldwide. We encourage you attend or host a group event that includes music, drumming., social event, and a potluck feast (after the Meditation) and of course bonding together in the Earth Peace Meditation.
A still mind meditation is preferred such as the EW Inner Peace Meditation outlined on the website. We are working on a recording that everyone can play during the Earth Peace Meditation session.
Himalayan Kriya Yoga master Yogiraj Gurunath inspired this Earth Peace Full Moon meditation and will always be joining as will master Van Donk and many other meditation masters from around the world.

Connect to us with the InnerNet and experience humanity as one being, merged with the divine Creator, expanding greater peace, and infinite love.

This great peace and love then can be released into the entire world through the Earth Peace Meditation, which utilizes the group energy through chanting simple Om vowel sounds, visualization and intention.

At the end we visualize a thousand swans flying out of our hearts to bring peace and end suffering on the earth.

Spread Random Acts Of Loving Kindness.
THE DECLARATION OF HUMAN RIGHTS
FOR EARTH PEACE
AWAKEN TO YOUR RIGHTS!

HUMANITY ONE'S ONLY RELIGION
BREATH ONE'S ONLY PRAYER, AND
CONSCIOUSNESS ONE'S ONLY GOD

• To serve Humanity as your Larger Self by meditating on the Peace within and radiating the same to the World without.
• Use the way of the Peaceful Breath which flows equally in all as a means for attaining World Peace, thereby, diffusing Individual and International conflicts.
• By virtue of being a World Citizen, it is the inborn right of every Human Being to endeavour to attain the Consciousness of Natural Enlightenment for the Peace of all Humankind and to exercise your Will-to-Good for making one another's lives on this planet a celebration.
• Your inalienable right lies in the furthering of Human Evolution for World Peace, leading to the realization that your expanded Consciousness and humanity's Consciousness are One!
• As we evolve we live less and less in our bodies and more and more in our Consciousness. Hence, fusion of your Positive Awareness with that of nature's cultivates an improved and balanced eco-system. Help to evolve nature with your Nature, because nature is the nature of Man!
• Allow yourself to heal and be healed of the negativity of your mind by letting go of the negative mind which covers the Splendour of Your Soul.